Revealed: The UK's Most Popular Home Cocktails
Now that the pubs and bars are opening back up for indoor service, it's more likely that our search history consists of Googling opening times or searching for last minute table bookings. No-one wants to miss out on the joys of the wonderful bar industry again. But there was a time when learning to mix up a cocktail with the alcohol left over from Christmas was the most exciting thing about our weekends.
In celebration of pubs, bars and restaurants reopening indoors, we've used data from Google Trends to determine the UK's most popular lockdown cocktails and which saw the biggest spikes in search interest between 2019 and 2020.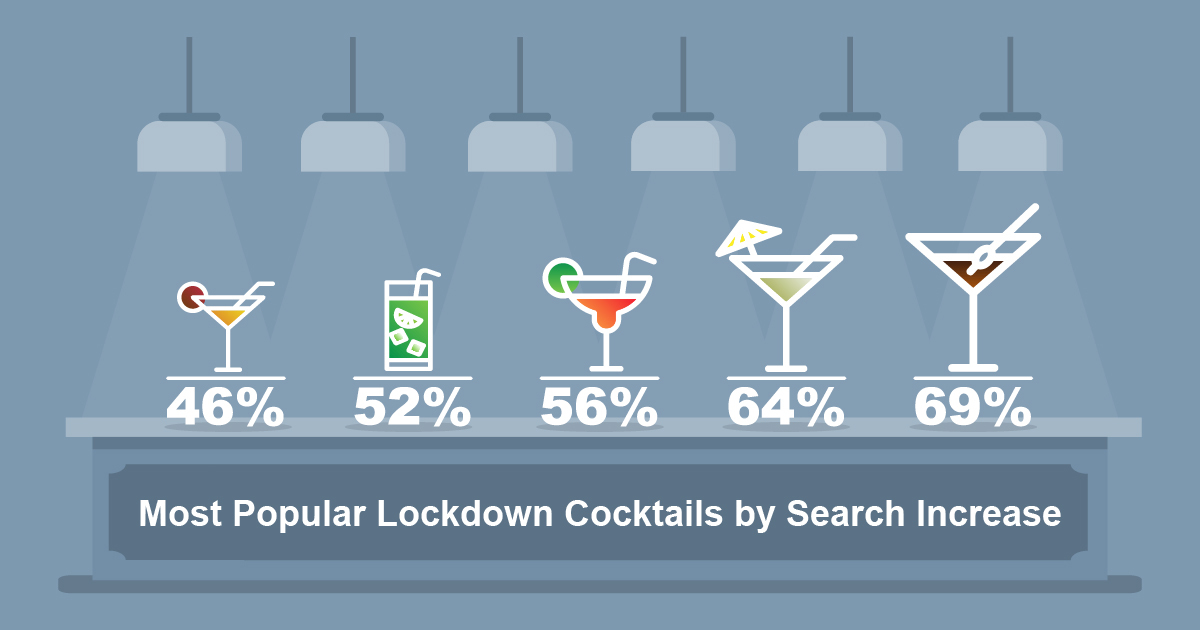 Pornstar Martini- 46% increase
Also known as a passion fruit martini, this drink is typically made with vanilla vodka and passion fruit liqueur and served with a shot of prosecco. This cocktail became 46% more popular in lockdown and earns fifth place on our list.  
Mojito- 52% increase
Combining sugar, lime and mint with white rum and soda water, the Mojito is one of the world's most popular cocktails and was 52% more popular with the UK in lockdown according to Google Trends. 
Cosmopolitan- 56% increase
Securing the third place spot with 56% more search popularity in 2020 is the Cosmo. This cocktail gets its pink colour from cranberry juice shaken with vodka, orange liqueur, lime juice and ice and strained into a cocktail glass.
Margarita- 64% increase
Just missing out on the top spot is this tequila-based cocktail. The origins of the Margarita date back to the 1940s and it has since become a popular drink consisting of orange liqueur, tequila and lime juice and often served with salt on the rim of the glass. Still a prominent feature on many cocktail menus, the search for homemade Margarita recipes increased by 64% during the UK lockdown. 
Espresso Martini- 69% increase
Racking up nearly 70% more searches, the Espresso Martini is the number one lockdown cocktail. Though we might all have been tempted to add a shot of vodka to our coffee during lockdown, the traditional recipe is made with coffee liqueur, espresso and vodka along with ice and sugar syrup. 
Why do cocktails taste better at the bar?
Sometimes no matter how much effort we put into perfecting a cocktail recipe at home, it never tastes the same as the drinks served at our favourite bars.
With pubs, cocktail bars and restaurants opening their doors again for indoor seating, we can't wait to show the bar industry our support.