Darts, Drinks and Live Sports at Legends Sports Bar
Located right in the centre of Aberdeen, Legends Sports Bar is the place to go for live sports or a casual game of darts or pool, and Servaclean are pleased to have been involved in its opening earlier this year.
By using our BARFrame structure and range of quality fitments, we were able to plan a bar that suited the needs of the venue and its customers.  As well as the purpose-built bar counter, we provided integral glasswash facilities to make keeping glasses clean a formality. Take a look at the new bar below!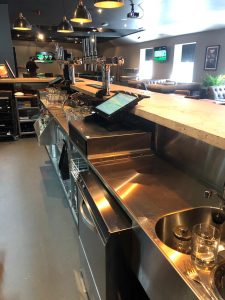 Ten pool tables and four dart lanes – with balls, cues and darts are all provided by the bar – mean that you won't have to sit around waiting your turn. A suite of large TVs and projectors adorn the walls, showcasing the biggest and best live sporting events on Sky Sports and BT Sport, including pay-per-views. With a tasty menu including burgers, pizzas and snacks and an array of brilliant beers on tap, Legends is the perfect place to go to watch your favourite sports or just relax with a bite to eat.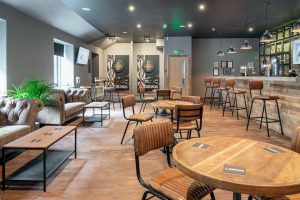 Whether our dedicated team complete the installation or you'd rather follow our easy assembly instructions, Servaclean do everything we can to make setting up your new bar as simple as can be, as testified below:
With no experience in hospitality, setting up a bar was pretty challenging! A friend asked about the bar system we were installing and recommended contacting Servaclean.  I cannot express how great the service was…to speak to someone who understood design, planning and building, coupled with a knowledge of how a bar operated made our lives so much easier! Money well spent, delighted with the outcome. Delivery on schedule and no install problems.
Fiona Daniel, Director, Legends Sports Bar
Instructions and plan were excellent, quick and easy to install – I actually quite enjoyed it!
Gareth Hughes, Director, Domus Design & Create
To find out more about our range of products and services, feel free to get in touch today by calling 01274 390038 wmail@servaclean.co.uk.