Building up a Head of Steam in Leeds
As a proud Yorkshire business, Servaclean are always happy to work on projects in our local area.  It feels great to make a mark on the local community, and we will have done once again when pub group The Head of Steam opens its latest project this month.
The venue, located on Park Row in the centre of Leeds, was previously occupied by Lloyds Bank, but a million-pound redevelopment effort has seen it totally transformed into one of the city's most attractive spots.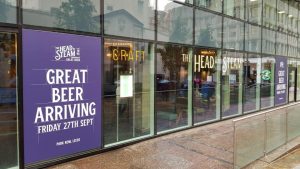 19 keg lines house a wide and rotating range of beers sourced both locally and from across the globe, and those pressed for time can take their tipple of choice away with them thanks to the bar's canning machine. Food is available seven days a week from The Head of Steam's mouth-watering menu, featuring a delicious selection of burgers, pizzas, hot dogs and pub favourites like fish and chips. Rounding off the venue is a unique retro gaming area complete with shuffleboards, pinball machines, electronic dart boards and arcade classics like Streetfighter.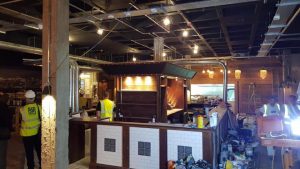 Of course, central to any venue's appeal and success is its bar, and Servaclean ensured that The Head of Steam's serveries are the best they can be with our unique BARFrame stainless steel structure and our range of quality fitments. We also provided and installed an integral glasswash facility, making for easier service and a clean glass for every customer.
The Servaclean bar system is a key component of all our future Head of Steam openings as we drive the brand UK-wide.
Mick Hill, Head of Property & Acquisitions at Cameron's Brewery.
With our free BARPlan planning and design service, Servaclean can help to create the bar of your dreams. To find out more about our products and services, get in touch by calling 01274 390038 or emailing us at wmail@servaclean.co.uk.