Rooftop Drinking at Cold Town House
Homemade authentic pizzas, a picturesque rooftop terrace and beer served from a van all make for one of Edinburgh's most unique drinking establishments, and the team at Servaclean were proud to have been involved in its launch.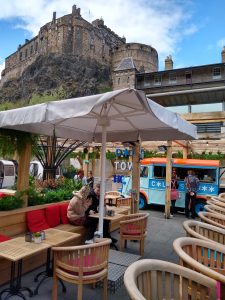 Cold Town House, located in the capital's famous Grass-market, opened earlier this year and is the flagship pub of local craft brewery Cold Town Beer – a brand run by Scottish bar operators Signature Pub Group – which launched in 2018.
Situated on the former site of the Robertson Memorial Church, the venue offers a striking and unique three-floor layout, most notably including a roof terrace providing stunning panoramic views of the city and the nearby Edinburgh Castle and offering seating by way of re-purposed gondolas. Below is a first-floor bar offering artisan stone-baked pizzas fresh from a custom-built Neopolitan oven, and floor-to-ceiling glass walls proudly show off eight huge tanks filled with Cold Town Beer – all brewed on site.
Servaclean's BARFrame counter building system was used to great effect when planning the ground and first floor bars, as well as the roof terrace's quirky vintage van bar. We also planned a coffee servery and remote glasswashing setup, as well as supplying bottle coolers and glass frosters. Our excellent planning skills, paired with an eye-catching visual theme courtesy of award-winning interior designers Tibbatts Abel, resulted in a sleek, contemporary look that will wow customers and facilitate easy service for staff. Take a look at how it turned out!
With our free professional bar planning service and BARFrame structural system, Servaclean are experts at planning and installing all types of bars. Our bars offer an unrivalled level of versatility, and with our wide range of fitments, we can easily cater for your every need. To find out more about our services and products, please get in touch by giving us a call on 01274 390038 or sending an email to wmail@servaclean.co.uk.