You're Only as Good as Your Bar
A restaurant or pub is only as good as its bar – as the primary point of service for your customers, it's important to make the right first impression, and a well-designed bar can also make things much easier for staff on the other side of the counter.
Through repeated use and the passage of time, your bar may start to feel a little dated. If that does become the case, Servaclean are here to help, just as we did for Mitchells and Butlers Premium Country Pub The White Horse.
Located in the charming village of Bearsted, just a couple of miles away from Maidstone, The White Horse offers a wide variety of food and drink served in a relaxed, comfortable contemporary setting.
BEFORE
AFTER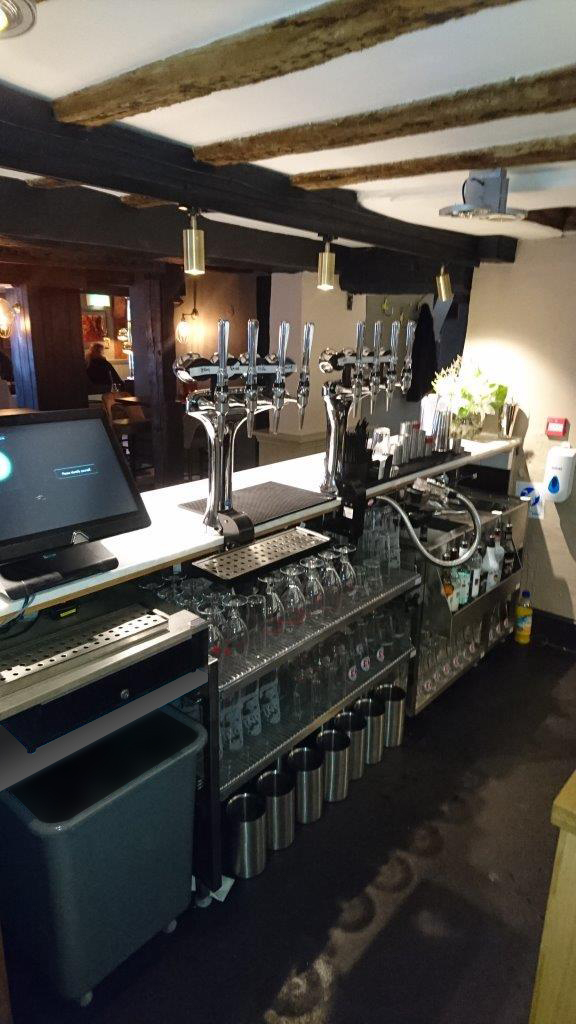 As you can see from the images above, the new equipment supplied by Servaclean has really helped to revitalise the pub's bar counter with its smart, eye-catching stainless steel look and the clean, efficient design of the serving area, including easily-accessible storage for glasses and drinks.
Our BARFrame stainless steel fixed bars are purpose-designed, supporting a range of fittings and suitable for installation in spaces of all shapes and sizes.
Our bars are easy to assemble and are built with longevity in mind, being made with 304 grade stainless steel for a great combination of durability, quality and hygiene. We also cater for all types of counter top and front panelling, as well as under bar design and convenient service ducts to accommodate pythons and cabling with a minimum of fuss.
No matter your setting, menu or environment, a Servaclean bar is the perfect way to ensure that your customers receive the best service possible.
The Servaclean installation offers generous amounts of hygienic glass storage shelves – the most hygienic on the market – which allow the operator to serve customers efficiently and maximise their profits during busy trading periods.
Sam Allchin, former Building Development Manager, Mitchells & Butlers Plc.
Since 1988, Servaclean have excelled in designing, planning and installing bars.
To find out more about our services, or to browse our extensive range of products, feel free to get in touch today by calling 01274 390038 or sending your enquiry to wmail@servaclean.co.uk.